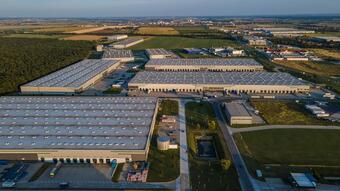 The conclusion of this long-term lease opens up new opportunities for the Prologis team to help Spandex continue to prosper. The supplier of materials, sign and display systems, graphics, vehicle stickers and architectural elements for leading players in the regional market plans to move into the building in July 2022.
"Spandex has been based in Prologis Park Bratislava for more than ten years. During this time, we had the opportunity to thoroughly understand their business, "said Jakub Randa, construction and leasing manager of Prologis in Slovakia. "New larger premises will allow the company to continue to grow. Our local team will also help, which will always be available when needed and provide the customer with tailor-made solutions and ongoing support. "
The building includes elements tailored to the customer - such as the ramp at the entrance to the warehouse or the new showroom of Spandex products. Employees will be able to take advantage of all the benefits of the PARKlife initiative, which aims to increase comfort and satisfaction in Prologis parks. Thanks to this, the Bratislava Park is equipped with, for example, a football pitch, an outdoor gym, barbecue areas, bicycle shelters and charging stations for electric cars.
"Joining our teams under one roof at Prologis Park Bratislava will give us a great opportunity to move our business forward," said Boris Podlucký, General Manager of Spandex EE. "Prologis carefully considered our needs and offered us spaces that are ideal for the warehouse, office and showroom - everything we need to continue to serve our customers."