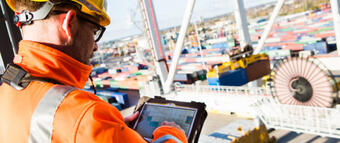 The digital transformation is taking place throughout the port industry, from sea cargo ships and shipping terminals to warehousing, logistics and transport operations that enable the further movement of goods. However, in order to reap the many benefits of digitization (higher efficiency, productivity, speed, control and oversight), businesses at every stage of the supply chain need to digitize processes and equip their teams with the right technology.
"A key element of the digital transformation is the use of reliable mobile solutions, from devices to software and solutions that can be installed in vehicles. Panasonic TOUGHBOOK's rugged tablets can be a useful tool for any of the major players in ports: Shipping companies can use them for cargo control, cargo tracking and documentation, "says Luca Legnani, European Marketing Manager, Panasonic TOUGHBOOK Europe.

Unloading / loading terminals, installation of equipment in various machines used for container handling, documentation, supervision of ground operations and supervision of oil tankers. Logistics services for monitoring and supervising ground operations, as well as communication and documentation. National carriers for verification, handling and navigation. Technical services for communication, data transmission, job checking, remote support and handling.
Digitizing the operation of the Italian logistics center Interporto Padova, Italy's leading freight logistics center, uses fully durable Panasonic TOUGHBOOK tablets to increase productivity, efficiency and sustainability. Interporto is located on key road, rail and port communication routes for north-eastern Italy and Europe. Every day, about twenty freight trains depart from here and regularly connect the main Italian and European ports.
The main role of Interport is to develop combined transport by promoting the use of long-distance rail as an alternative to road transport. Rugged mobile devices are used to view and manage operations in real time, as a source of information for workers and when handling machines. Durable tablets are used day and night by field workers who perform operations in rain, snow and sun along the tracks.
Operators continuously receive and send information from the device and are constantly online thanks to the LTE connection, despite the presence of tall metal structures such as cranes and container walls. The tablet is also used in the cockpit of container vehicles, from where traffic-related information is transmitted to the driver in real time.
Another global operator DP World, a leading global trade intermediary and an integral part of the supply chain, also uses rugged Panasonic TOUGHBOOK laptops and tablets to increase productivity and improve customer service at its busy terminal in Southampton, UK.
DP World Southampton wanted a mobile computing solution for managers who are responsible for ensuring the safe and correct loading and unloading of containers on all ships that arrive at the terminal. After reviewing a range of Panasonic TOUGHBOOK mobile devices, they chose rugged tablets and created their own software program that gives senior operators autonomy in on-site decisions, increasing productivity and reducing costs.