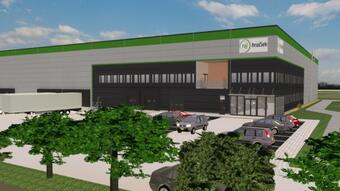 The construction of the distribution center and headquarters for the online store Rajhračiek.sk is taking place on an area of ​​5,300 m2. The access road, which is tailor-made for the end client, will also include the access road, external networks and paved areas (a total of 12,000 m2). "For example, the individual solution takes into account the color design of office space, which is based on the corporate identity of the tenant," says Tomáš Kosa, CEO of HSF System SK.
The construction will be completed and intended for use for long-term lease from the beginning of November this year. "Mutual cooperation with HSF System SK was at a very professional level. The whole agreement went above standard, in 7 weeks. Speed, flexibility and well-set expectations were the main factors for completing the entire process in such record time, "says Jakub Velko, Senior Consultant at 108 Agency Slovakia.
The ANTRACIT Senec project is completely designed in BIM. It also draws on the processed model during the construction. "For the first time, we will use the BIM model, in addition to design and implementation, also for the subsequent management and maintenance of the building," adds Tomáš Kosa. The distribution center is growing in the middle of the most important logistics park in Senec. It has excellent accessibility and visibility. The complex is only one kilometer from the main Slovak highway D1 and less than 30 kilometers from the capital Bratislava.