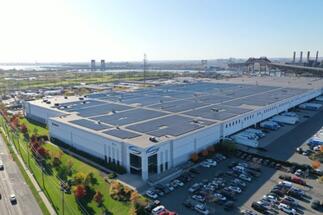 "ESGs are part of the essence of our work and all decision-making - from the board of directors to all levels at which we operate worldwide. Our commitment to the principles of ESG is closely linked to the strategic framework that is essential to our business - with the principles we call 3C: Customer Centricity, Change Through Innovation and Culture & Talent, "said Ben Bannatyne, President of Prologis Europe.
The key points of the Prologis ESG 2020 overview illustrate how the company has managed to use the global reach of its business to create cutting-edge solutions in areas such as energy saving, carbon neutrality or customer innovation.
100% environmental protection
Focusing on sustainable construction, energy efficiency and the use of renewable energy provides added value for customers. For example, through the Prologis SolarSmart initiative, part of the Prologis Essentials program, the company has worked with customers to expand the solar energy capacity of its global portfolio by 40 megawatts, making 2020 one of the most successful years in history, at least in terms of progress.
Since 2016, LED lighting has become a part of the standard equipment of buildings from Prologis, and together with customers, in 2020 we managed to install LED lights in almost 50% of the portfolio.
Together with its customers, the company protects the environment and has therefore committed itself to introducing high-quality and energy-efficient LED lighting in all their buildings around the world by 2025. This is possible thanks to the scope of global operations and thanks to the Prologis Essentials LED program, which is one of the pillars of the Prologis Essentials program created with this intention in mind.
The year 2020 was also marked by the construction and commissioning of several Smart Buildings across Europe, which include state-of-the-art sustainable technologies and materials that use state-of-the-art elements such as low-carbon materials, heat boreholes or electric heat pumps. , and their design using circular principles. These "Smart Buildings" set a new standard in warehousing and logistics, and help customers streamline operations and optimize productivity as their business grows from day one of their leases.
The company's activities in recent years prove that it is possible to effectively minimize the impact on the environment. In 2019, Prologis became the first real estate company to be included in the S&P 100 ranking to achieve carbon neutrality operations. Now he wants to prove that logistics can be even greener, which is why Prologis has set itself a new ambitious goal.
"We have announced that by 2025 our entire construction will be carbon neutral. Prologis is thus taking the lead in addressing the challenges of one of the world's most important sources of emissions: the carbon footprint of buildings. "
South of Paris, the new Moissy 2 logistics facility will become the first carbon-neutral warehouse to prevent emissions and reduce and compensate for 100% of the impacts associated with construction, operations or maintenance throughout the life of the building. The project has no gas connection and will use energy-saving elements of its design, rooftop solar panels, purchased ecological energy and thermal energy stored in the well for heating, cooling and electricity supply.
At the pan-European level, it is a partner of the international charity Cool Earth, to which Prologis contributes to the protection of rainforests, corresponding in its area to five times the necessary carbon emissions associated with the construction of buildings. With the construction of Prologis warehouses in Central Europe, 784 hectares of rainforests were saved last year alone.
Social responsibility in all circumstances
Stakeholders are key partners on the path to Prologis business success. They create long-lasting values ​​by establishing deep relationships with them and paying maximum attention to their interests. This creates an environment in which employees can fully develop their potential, where products and services bring unique values ​​to customers and where the priority is the prosperity and wellbeing of the communities in which Prologis operates.
PARKlife ™ is a European Prologis initiative focused on the background and equipment of parks for customers, their employees and local communities. Many of our parks thus enable and support eco-friendly travel options, such as easily accessible public transport, charging stations for electric cars and safe storage areas for bicycles, which helps employees get to work in a sustainable way.
Other of the complexes have company canteens and stops for food trucks, which allow customer employees to choose food from a varied menu directly at the workplace. Popular facilities also include sidewalks for pedestrians, gyms or other sports facilities. For example, in Hungary and Slovakia, park customers have football pitches at their disposal, and in Poland, public libraries have recently been set up in the common outdoor areas of parks called Book Boxes.
PARKlife ™ is about a specific way of thinking focused on how the common spaces and the environment can create the best background for all those who use it. At the same time, it is a tool that allows customers to solve one of the most pressing problems they are currently facing: the availability of manpower.
During the COVID-19 pandemic, Prologis reaffirmed its position as a reliable partner for stakeholders by focusing entirely on both customer and employee support. The company provided personal protective equipment for customers and implemented strict protocols against COVID-19 disease to ensure the safety of customers' employees and keep their businesses running.
Efforts in this area have been recognized - according to the weekly Wprost, Prologis is one of the 50 companies in Poland that took the best care of its employees during the pandemic. And even more - the commitment of local teams makes it possible to support those whose pandemic has hit hardest. Proof of this is the results of the December charity campaign Dock Doors of Giving.
"I am proud of the way our European team has used its innovative thinking, size and partnerships to support our customers and communities in a year of unexpected challenges. It is on these principles that our philosophy works, of which the areas of ESG are at the center. Not only because they are beneficial from a business point of view, but because they are simply the direction to go. We see what the real impacts of our individual steps are and also how we positively influence our surroundings. This is a huge motivation for us to make further changes, "says Paweł Sapek, Prologis' Regional Director for Central Europe.