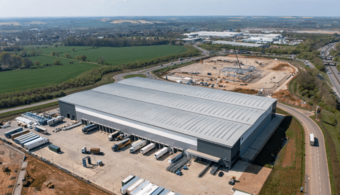 Frank Pörschke, CEO of P3 Logistic Parks, said: "The acquisition of these two logistics assets in the UK is a significant milestone for P3 as it expands its presence in a key market with a strong logistics industry. The United Kingdom has always been an important crossroads for international trade. We are pleased to be able to offer our expertise and resources to meet the evolving needs of businesses operating in this region."
The newly acquired logistics assets have a strategic location in the so-called golden triangle and provide seamless links to the UK's major transport networks and key industrial centres. All properties were built post-2010 to a modern Grade A institutional specification and have a BREEAM 'very good' rating, while being fully let by three tenants.
P3 works with Roebuck, an institutional pan-European investment manager specializing in the European logistics sector. In entering the UK, P3 is benefiting from the assistance of Roebuck and its wealth of success and experience with tenants. Both assets in their early stages of P3's UK expansion will be managed under the Roebuck umbrella.
Otis Spencer, Investment Director at P3 Logistic Parks, said: "P3's entry into the UK market reflects our long-term vision and strategic growth plans. We have carefully selected these logistics assets to be in line with our commitment to provide our customers with the highest quality of service, operational efficiency and sustainability."
David Proctor, Group Investments Executive at SEGRO, said: "This transaction has enabled us to divest a number of relatively small holdings that were earmarked for sale in the near to medium term, enabling us to recycle capital into our successful development programme. This also confirms the ongoing investment attractiveness of high-quality logistics assets after the fundamental adjustment of their valuation that occurred last year."
Terms of the transaction were not disclosed.
Colliers was the advisor to P3 in this transaction. DTRE and ACRE acted on behalf of SEGRO.
Ed Plumley, Head of Capital Markets EMEA at Colliers, said: "These acquisitions are the good news the market needs. This is clear evidence that investors continue to be interested in assets in key locations with long-term growth and ESG performance opportunities. It was a pleasure for Colliers to offer P3 this off-market opportunity and provide them with targeted advice on their expansion into a new jurisdiction.