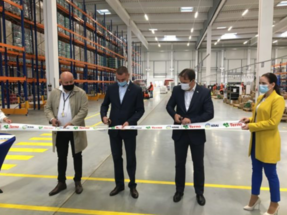 For Terno and KRAJ stores, this will mean better availability of goods for customers. Its distribution will take place on a daily basis. The total area of ​​the new distribution center is 5,976 m2, which represents a capacity of approximately 6,000 euro pallets. Of course, there are office and utility spaces, which cover an area of ​​456 m2. It is a so-called dry warehouse, where mostly durable foodstuffs are kept.
"The expansion of the stores, their growth, and wholesale no longer allowed us to work from the current warehouse. The layout was small. Besides faster and better services for customers, we also thought of our employees, to whom we wanted to provide a higher standard of the work environment," explains Ľubomír Petrík, director of central services Terno real estate. This step opens up new opportunities for businesses in retail, wholesale, and online. They also plan to link a dry store and a fresh food store containing goods such as fruit, vegetables, meat, delicacies, and dairy products.
All the company's stores, i.e. the Terno and KRAJ chain of stores, are supplied from the distribution warehouse in the logistics center in Ivanka pri Dunaji. "I am glad that we are streamlining the distribution of products to stores. This is one of the important steps on our path to a nationwide chain. In the new modern warehouses, we are ready to handle not only organic but also acquisition growth," said Stanislav Čajka, the company's director.
The grand opening of the new warehouse took place on September 28 in the presence of the company's management. From this day on, the supply of Terno and KRAJ stores with durable food will be provided only from Ivanka pri Dunaji.
Source: // Logistics systems