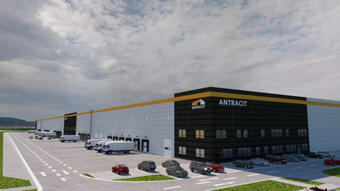 The development project Antracit Prešov is located in the lucrative location of the industrial area in the Záborská part. The final stage is the completion of the connection of the territory to utility networks.
"Currently, negotiations are also ongoing with several potential applicants for these premises," says Tomáš Kosa, managing director of Antracit Property, adding: "We believe that some of these lease negotiations will be finalized in the near future, which will lead to the start of construction in of this location."
The developer offers two solutions for this area. The first variant operates with one hall with an area of ​​40,850 m2 and with the possibility of dividing it into several units with a floor area according to individual needs. The second solution includes three separate halls with administration and a separate SBU (so-called small business units). Everything can be adjusted according to the individual needs of the tenant. The total area of ​​all buildings in this variant is 36,500 m2.
Antracit Prešov is a project intended for long-term rental with individual modification of the exterior and interior according to the tenant's requirements. The use is suitable, for example, for warehouses, showrooms or stores. The campus is seven kilometers from the center of Prešov. It also has great access to the E50 highway.
In Slovakia, two other projects of the development company Antracit Property are also in the implementation stage. The Antracit Spot project in Žilina is in the final phase of construction. The premises can be used, for example, as warehouses, showrooms, shops or catering establishments. In the project preparation phase, the Antracit Senec project is being expanded by another logistics hall, which will also provide smaller rental units.
The development company Antracit Property also develops its own projects in the Czech Republic, for example in Ostrava or Pilsen.