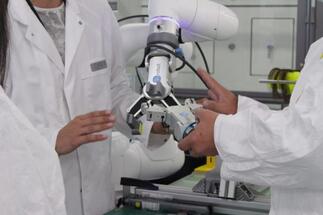 L'Oréal has deployed new technologies that it uses in automation, modeling and sensory evaluation using robotic applications and solutions from OnRobot, a global leader in collaborative robotics. The integration of collaborative applications has allowed L'Oréal to improve the work environment, rid employees of harder work and assign them more inspiring tasks.
The OnRobot RG6 gripper provided optimal flexibility in evaluating hairstyles thanks to the size of the gripper and its speed when changing tests, when it is necessary to easily switch end tools. As part of the foam evaluation process, the RG2-FT gripper provides ideal control of grip strength thanks to built-in sensors and robustness when handling objects.
In 2012, L'Oréal opened the world's largest hair research center in Saint-Ouen, France. Nearly 500 researchers work on three floors, creating new shampoos, hair care products, styling products and hair dyes based on scientific knowledge and hair types. Workers develop, create and carefully monitor the needs and desires of consumers. To stay at the forefront of its field, L'Oréal needed new automation, modeling and analytical technologies in its laboratories.
"We have been working on automation for about 10 years, but now is the first time we have installed cobots in our infrastructure," says Jérémy Baronnier, Project Development Manager at L'Oréal. "Naturally, we chose OnRobot applications, especially their RG6 and RG2-FT grippers. We need a flexible system, and thanks to the deployment of cobots, we are now able to face new challenges more easily, quickly and efficiently. At the same time, the Quick Changer allows you to easily switch from one gripper to another without wasting valuable time. "

Investments in infrastructure eventually led to savings of tens of thousands of euros. We managed to increase performance, ease of use and increase the productivity of all operators thanks to accurate test units. "So far, we have been able to test 175 formulations per week (7 hours × 5 days). In the near future, we will be able to test up to 504 formulations per week (24 hours × 7 days), "says Rémi Bonafos, Manager of Hair Innovation Methods and Techniques at L'Oréal.
Today, OnRobot systems are installed in all L'Oréal hair laboratories throughout France and could soon be deployed internationally.
Source: // Systémy logistiky