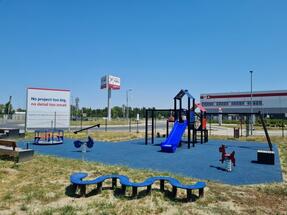 P3 Bratislava Airport is the latest project of the developer P3 Logistic Parks, which brings several sustainable innovations in the logistics industry. One of the newest is the rest and relaxation zone, which he opened for tenants and visitors of the Bratislava park. They can exercise in it during the day, play mini football or have refreshments in the fresh air. Part of the so-called in the workout zone there is a bench with storage counters for food and drinks, but also a separate solar bench with which the visitor can charge a mobile phone or laptop. A special zone with a children's playground was built by the developer for even the smallest visitors to the park. They can have fun, for example, on climbing frames, spring swings, or a small merry-go-round.
Another novelty that is being prepared in P3 Bratislava Airport is a place for special new tenants. Soon, the park will include several beehives with a full-fledged bee colony, which will also contribute to the preservation of the ecosystem of the given location. Bees are considered one of the most important pollinators and have an irreplaceable place in the protection of biodiversity, a healthy environment and health.
Peter Jánoši, executive director of P3 Slovensko, says: "This is our first city-business type park that takes full advantage of all the advantages of being close to the city. However, we also want to be beneficial to the city and the local community. We create work and business opportunities, contribute to raising the standard of living and the quality of life in the city. Our parks are part of a wider ecosystem, so we try to integrate them into the surrounding environment. The amount and type of greenery planted is related to this, where we try to preserve the local habitat and support the ecosystem. At the same time, green areas are an excellent place for active rest, which will be excellently supported by the relaxation and relaxation zone.
In the Bratislava city park, the developer built modern properties of the highest quality level A, certified with the BREEAM Very Good designation. It is awarded only to buildings that meet strict environmental criteria, use energy efficiently, are environmentally friendly and at the same time monitor how people feel in the given spaces.