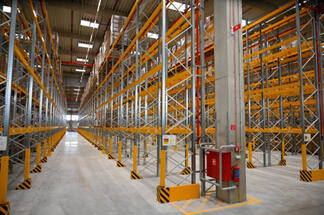 "At the time of the opening of the Logistics Center in Sered, we had 124 stores in Slovakia, but today we already have 150 of them and this results in higher requirements for our warehousing and logistics capacities. Our basic aim is to enable customers to easily and conveniently buy everything they need under one roof in our stores, so that all goods are available in sufficient quantities, as fresh as possible and, of course, at the best price. In our concept, we receive all goods, with the exception of unpackaged fresh pastries, from suppliers in a large warehouse, from where they travel to a specific store. Thanks to this system, we can better control the quality and freshness of the goods we offer and also set up logistics more efficiently and ecologically, "said Slavomír Špánik, Sales Director of the Sereď Logistics Center.
The general contractor of the construction was the Slovak company TOPA STAV. Lidl also takes into account the aspect of sustainability when building its buildings, otherwise this is not the case. In 2016, the Logistics Center in Sered became the first building in Slovakia to receive the highest possible level of the most internationally important environmental certification BREEAM and subsequently a national award in the field of sustainable construction and architecture - VISIO 2020.
"We continue to adhere to the BREEAM standards that we met during the construction of this logistics center four years ago. We built a retention tank and a green wall. Dozens of employees of the general contractor, who cooperates with approximately 25 subcontractors, took part in the construction every day. We are glad that we are able to help the Slovak economy in this way as well, "said Karol Krasowski, Managing Director of Lidl Slovak Republic responsible for central services, expansion and construction.
The warehouse in Sered received the highest grade of BREEAM as the 14th building in the world. Among industrial projects, previously, only buildings in the Netherlands, Ireland and the United Kingdom have succeeded.
Lidl entered the Slovak market in September 2004 as the last of the large retail chains. It currently has 150 stores in Slovakia, three logistics centers (in addition to Sereda also in Nemšová and Prešov) and headquarters in Bratislava. The discount in Slovakia pays tens of millions of euros in taxes a year and is already a six-time holder of the Taxpayer of the Year award, which is given by the Financial Administration.
Lidl employs more than 5,500 people in Slovakia. Lidl is a five-time holder of the prestigious international certificate Top Employer Europe and Top Employer Slovakia and has already three times enjoyed the first place in the national competition The Employer. The chain also received the prestigious Via Bona award for its activities in relation to employees. Based on a public vote, Lidl has already enjoyed the Merchant of the Year award fifteen times.
Source: // Logistics systems