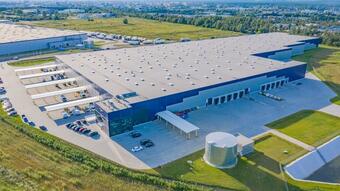 CEE investment volume growth rates
Kevin Turpin, Regional Director of Research, CEE at Colliers says: "All countries in the region recorded year on year declines in volumes compared to the same period of 2020 and 2019, except for Hungary and Slovakia. Despite the slow start, investor sentiment remains strong and suggests a pick-up in activity in H2, subject to available product and improved travel possibilities".
Q2 2021 prime yields
Colliers has recorded compression of between 25 and 200 bps in prime industrial & logistics yields since the start of the year as the sector maintains great fundamentals and strong demand. Prime office yields outside of Warsaw and Prague have also moved in slightly, by as much as 25 bps. Some further decompression has been applied in some markets in the shopping centre sector as it tries to recover from the operational restrictions imposed over the past 16 months.
CEE flows by sector
The office sector again dominated in the first half of 2021. Logistics and residential continue to attract strong demand from investors but, remain to be held back only by the shortage of supply as opposed to demand. Retail volumes continue to be supported mainly by retail parks and supermarket assets. Hotel volumes remain limited.
CEE flows by the origin of the purchaser
European capital has been the most active in the first half of 2021 with a 46% share of the total volumes. Nordic, UK and German capital were behind most of the activity. CEE domestic capital has again been active with acquisitions in their own markets, but also across the region. Czech and Hungarian capital continue their drive with 20% and 10% of the total regional volume respectively. North American, Asian, Middle Eastern and African capital have all been fairly quiet so far this year but are expected to return in H2.
Vacancy rates
In many markets across the region, office vacancy rates have crept into double digits since 2020 and continue to rise as construction commenced pre-pandemic continues to be delivered and future supply pipelines are slowly adjusting. As a result, there is some downward pressure on rents and upward pressure on tenant incentives.
On the contrary, industrial & logistics vacancy rates have mostly declined, now averaging at between 5-6%, as the sector enjoys good levels of demand that often outstrips possibilities, particularly in the most sought-after locations. Rents have remained reasonably stable, with average rates across the region in the range of €4.3 per sqm /month and developers/landlords in strong negotiating positions and preferring, build-to-suit where possible in many markets, as opposed to speculative development.