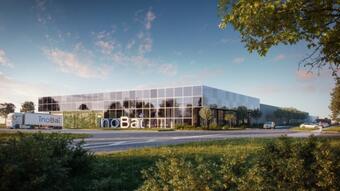 InoBat Auto will not only develop and manufacture lithium batteries that are less demanding on cobalt but will also recycle them in the new InoBat Recycling division. Slovakia can become a "soft" battery for electric cars and a full-fledged part of the circular economy. The recycling project will be implemented in 2 phases.
Already this year, the company starts building lines for the physical scrapping of batteries, which will be withdrawn from the market at the end of their life and recycled. In the second phase, which will take place in the coming years, a hydrometallurgical line will also be implemented. There will now be a 95 percent metal recovery rate, efficient production costs of 35% and efficient CO₂ production of 20%.
Marta Tomišová, who has many years of experience in the aerospace and automotive industries, has become the new CEO of the InoBat Recycling division. She explains that the goal of InoBat Recycling is aided by the proper functioning of the circular economy and contributes to the elimination of the extraction of the most critical non-renewable resources such as cobalt, lithium or nickel.
"I care about the environment and my goal is to help protect the environment for future generations. Therefore, I am pleased that it can be part of InoBat, which is involved in supporting the circular economy, thanks to which a successful implementation strategy "from cradle to cradle" can become. We will not only produce green batteries, but also recycle them, and thanks to the planned recycling line, we will again produce critical metals in the production of other batteries. "
Marta Tomišová has many years of experience, which she gained during her work in several communities, such as Aerotech, ATFIN or Van Leeuwen. After returning to Slovakia, she decided to join InoBat and participate in the automotive industry, primarily in matters of environmental protection and recycling.
InoBat with this step, recycling is also taking place on the new circular economy action plan, which was followed up by the European Commission last year. It deals with the life cycle of products. Within it, the EU wants to achieve several remarkable goals, including a chapter on electric cars and batteries. InoBat also identifies with them, with the aim of achieving climate neutrality and technological independence in this area.
Thanks to InoBat Recycling, we will be able to not only improve the life of electric vehicle batteries but also reuse them, increase the number of recycled securities, reduce the carbon footprint or continue to dispose of batteries in an environmentally friendly way.
"We would drive eco-friendly vehicles for free if their batteries are produced non-ecologically. This area needed a change that we prefer to join. Finally, quotas will be introduced for the content of recycled materials in batteries, and the products will continue to ensure their collection at the end of their life and subsequent recycling. Gradually replace non-rechargeable batteries with rechargeable batteries and reduce their carbon footprint during their production. At the same time, obtaining critical raw materials will be transparent and ethical," concludes Marta Tomišová, CEO of InoBat Recycling.
In addition to recycling its batteries, InoBat's goal is their production costs. These will be breakthrough green batteries that are tailor-made for specific customers. Their research, development and production will take place in the new R&D center in Voderady with the support of artificial intelligence and a modern High Throughput Platform.
Source:// Retrend