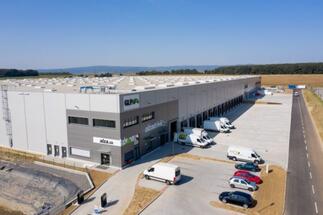 The e-commerce segment continues to be a strong driver of demand in the logistics real estate sector, as internet use in major global markets continues to grow. At present, GLP's e-commerce partners account for about 40 percent of the company's global portfolio, a significant increase from 20-25 percent five years ago.
The pandemic has accelerated the transition to online shopping and digital solutions in at least two to three years, and we expect these changes to have lasting effects as the global economy begins to recover. The new conditions require not only increased warehouse space, but also the right technology, data, and manpower to result in increased efficiency in the wider supply chain.
In Europe, rents increased by 69 percent year-on-year, with approximately 1 million square meters of contracts signed with new and existing customers in 2020. These were companies such as Alza.cz (for example, in Slovakia signing a lease agreement in a logistics park in Senec, where Alza has expanded its area for the fourth time and the park is fully leased), Amazon, DHL, Leclerc, ID Logistics, Royal Mail, XPO Logistics or SF Express, a global client that was the first tenant in Europe.
In addition, GLP Europe recorded its busiest year in terms of new construction - during this period, real estate development worth $ 813 million was launched, a year-on-year increase of 113 percent. At the same time, the team is expanding its existing assets and concluding the acquisition of a portfolio of logistics properties in Central and Eastern Europe, which strategically expands the company's European operations to 12 countries.
Source:// Systémy logistiky