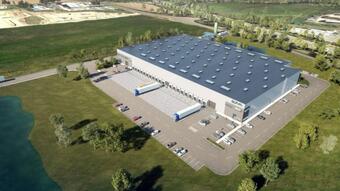 Following its first final notification on 29 September, GLP announced that it had received an additional € 500 million for its pan-European logistics fund GLP Europe Income Partners II ("GLP EIP II"). This additional capital increases total capital liabilities to approximately EUR 1.6 billion (approx. USD 2 billion), which exceeds the originally set target and, once fully deployed, will allow the fund to reach the value of assets under management of EUR 3.2 billion. EUR (approx. 3.9 billion USD). Additional capital was raised from institutional investment partners in Europe, the Middle East and Asia.
The GLP EIP II fund contains a portfolio of high-quality and attractive logistics assets located in advantageous locations in Europe, as shown by the occupancy rate of almost 99 percent. The building age of these assets is on average less than five years and the assets have modern specifications. The portfolio also benefits from a weighted average of the unexpired lease term of almost seven years.
Ralf Wessel, GLP's Executive Director for Fund Management, says: "Since its inception, GLP EIP II has delivered excellent results, leading to very strong demand from investors, which has allowed us to exceed our original fund objectives. We are very pleased that our strategy has been met with both current and several new investors, and we will continue to look for investments in the highest quality assets so that we can provide attractive returns."
"GLP Europe has more than 30 years of experience in investing, developing and managing some of the highest quality logistics assets in Europe. To date, we have strategically built a large footprint across Europe. "We expect the European logistics market to accelerate in 2021, and we will continue to pursue our disciplined growth strategy so that we can acquire high-quality assets in very advantageous locations," added Nick Cook, President of GLP Europe.
In Europe, GLP is one of the fully integrated logistics investors, designers and managers with the longest history, and manages assets worth approximately 10 billion. EUR (approximately USD 12 billion) across the strongest logistics markets in Europe. GLP EIP II is the fourth investment tool focused on the company's Europe.
GLP is a global investment manager and business development assistant in logistics, real estate, infrastructure, finance and related technologies. Its combined experience in the field of investments and operations enables us to create value for both customers and investors. The company operates in Brazil, China, Europe, India, Japan, the USA and Vietnam and manages assets worth 97 billion USD in real estate funds and private equity funds.
Source: // Logistické systemy