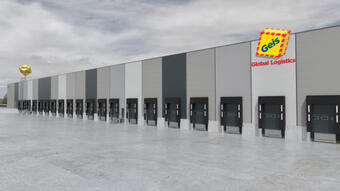 "Thanks to the dynamic growth, we needed to find larger and more suitable premises for our branch in the Bratislava region. Our request was a modern cross-dock terminal in combination with a warehouse near Bratislava and at the same time by the D1 motorway, "said Daniel Knaisl, managing director of the Geis group for CZ, SK and PL.
Due to its strategic location, VGP Park Bratislava represents an important logistics project that will support the segment of domestic and foreign trade and logistics. "The park, which is implemented by VGP, exactly meets all our requirements."
During the construction of the park, emphasis was placed on sustainability, as evidenced not only by the BREEAM certificate, but also integrated elements of sustainability and environmental responsibility - for example, roofs are ready for installation of photovoltaic systems. storage space for bicycles available.
During the construction of the new premises, emphasis was placed on efficiency due to the planned number of trucks handled at one time.
In the first phase, Geis will use 8,000 m2 of indoor area, with corresponding outdoor areas and parking areas. Given the planned number of many dozens of trucks handled at one time, the new premises are significantly more efficient than those existing in Senec. Check-in of individual trucks will also take place via a ramp (length 132 m).
"In the new branch, we will offer logistics services that can be used individually or in combinations, exactly according to the needs of our customers - from a simple transport solution to special transport or warehouse logistics projects. Of course, there are additional services, such as cross-docking, customs and consignment warehouses, production supply, assembly of parts, reverse flow logistics, labeling and repackaging, purchase and supply of packaging materials, overseas packaging, etc., "says Tomáš Čanaky, branch director.