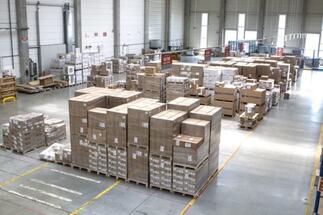 The international transport and logistics company Gebrüder Weiss continues to grow in Slovakia. The company can thus look back on a financial year with strong sales.
"The positive development is largely the result of high demand in the e-commerce sector. In addition, we managed to gain significant customers, whom we convinced with our dense network and the possibility of direct connections to all European markets, "says René Stranz, Country Manager of Gebrüder Weiss Slovakia. In the area of ​​land transport and delivery to households, the company recorded an increase in delivered consignments by approximately 40 percent.
New warehouse, more employees
Gebrüder Weiss responded to the growing volume of shipments by expanding its logistics facilities in the Bratislava branch. The area is now almost 20,000 square meters larger. In addition to new offices and spacious outdoor spaces, storage capacity increased by 5,000 m2 (15,000 m2 in total) and transhipment area expanded by 2,200 m2 (6,000 m2 in total).
The number of employees also increased by 20 percent. "This means that we are well equipped to handle transport peaks seamlessly, such as during Black Friday, as well as to meet our customers' expectations for accuracy and quality of service," says René Stranz.
The logistics company has invested around € 7 million in the expansion and has also taken environmental considerations into account; for example, an intelligent heating and cooling system has been installed and attention has been paid to LED lighting and low-energy equipment. The company is already counting on possible further growth: Another 10,000 square meters are available for further construction.
High economic stability
The sustainable management of the logistics company was also confirmed in July by a certificate from the rating agency Bisnode / Dun & Bradstreet. Gebrüder Weiss received the maximum number of points and thus ranked among the "Top Rating Companies" in Slovakia. In this category, a renowned provider of rating services brings together companies that are characterized by financial stability and high creditworthiness.
Gebrüder Weiss has been represented in Slovakia since 1993 and today has four branches with approximately 180 employees. Many customers come from high-tech, automotive and e-commerce. In 2020, the company also managed to acquire a major international customer, a leader in the cleaning technology industry.