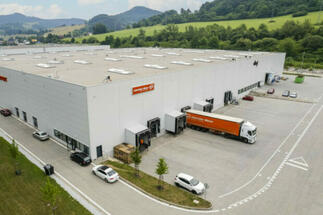 Companies that need logistics services and transport service can now benefit from the higher capacity of logistics spaces in the north-west of Slovakia. In the vicinity of the industrial center of Žilina, the international transport and logistics company Gebrüder Weiss recently opened a new logistics terminal with an area of 1,800 square meters of logistics space.
"Our new warehouse is located near the Žilina Airport, right in CTPark Žilina Airport, in a location where the center of the automotive and high-tech industry in Slovakia is concentrated. The main highways E75 and D1 connect us with industrial regions within Slovakia, but also with Poland and the Czech Republic," says René Stranz, Country Manager Gebrüder Weiss Slovakia. In addition to storage, the company offers value-added services such as picking, packing, filling, direct transshipment and long-term storage.
After the start of operation of the new terminal, the storage and logistics area, including transshipment and Gebrüder Weiss Slovakia office space, increased to a total of 28,400 square meters. Gebrüder Weiss has other logistics terminals in Bratislava (headquarters), Banská Bystrica and Prešov. The largest customer sectors in which the company operates include the automotive, high-tech and engineering industries.
In the medium term, the company intends to expand its investments in "green solutions" such as the installation of photovoltaic systems at its logistics terminals in Slovakia, as well as using electric trucks to deliver goods to the homes of end customers. Tests with alternative drive technologies are currently underway. These are just some of the measures that will help Gebrüder Weiss achieve its goal of becoming a climate-neutral company by 2030.