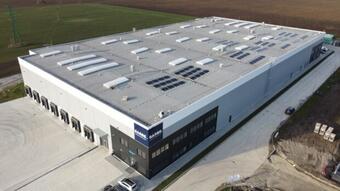 A logistics complex is to be built in Petržalka in Bratislava, which will create jobs for approximately 623 employees. This results from the plan called Garbe Park Bratislava City, which the investor - the company SK5 Logimac - submitted for environmental impact assessment (EIA). Estimated investment costs are approximately 30 million euros.
The territory where the logistics park is to be created is bounded on the eastern side by the D2 highway, and the northern part of the territory is defined by the overpass above the highway - the connection to Bratská Street. The site is planned to be connected to the D2 highway. The routing of traffic from the operation should be solved outside the dwellings of the city district.
"There will be four showrooms with related facilities for rent and they will serve as an exhibition and sales area with storage space according to the tenant's requirements," added the investor in the plan.
He explained that in the dedicated premises of the proposed activity, it is expected to create jobs for approximately 623 employees as part of the three-shift operation. At the same time, 280 parking spaces are to be created. The investor anticipates the start of construction in 2025 and completion two years later.