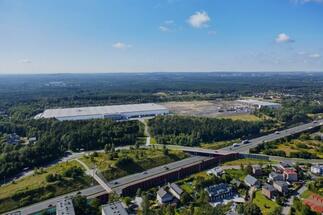 Customer sentiment improved in the third quarter, thanks to general market beliefs about the short-term effects of the COVID-19 pandemic. Entrepreneurs adapted to the new conditions and began to prepare for the second wave of the pandemic. Demand for the premises was increased by sellers of everyday goods and e-commerce companies, above-average demand came from suppliers of food and household goods. The average vacancy rate increased slightly during this period - by 70 basis points to 4.1%. Rents decreased by 0.4% compared to the previous quarter.
The total area leased in the third quarter of 2020 is 1,030,400 square meters, of which 321,000 square meters relate to new leases and 709,000 square meters to extended leases. Year-on-year rental activity is at the level of 2.6 million square meters: 614,000 square meters of new leases and 2 million square meters of extended leases.
The distribution of Prologis Europe's capital in the third quarter of 2020 in terms of construction was as follows: in the third quarter in Europe, construction of six new BTS buildings began, namely one each in Poland, the United Kingdom, Germany, France and two in Italy, with a total area of ​​212 000 square meters. Acquisitions and sales: Prologis acquired 279,000 square meters of warehouse buildings, six of which are located in Belgium, five in Spain, one in the Netherlands and one in Italy. Five plots of 233,000 square meters were also acquired in Italy, Germany, the United Kingdom and Belgium.