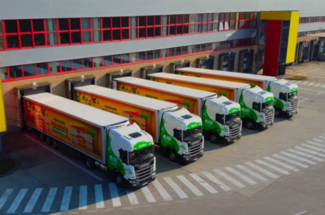 BILLA is leaving the existing premises due to insufficient storage capacity. "Current warehouse capacities are at a maximum. Although we have a regional warehouse in the east of Slovakia, specifically in Petrovany, due to the planned expansion of our company, we had to look for new premises. We dispatch 80 to 100 trucks a day, which supply the west and center of Slovakia. With more stores, this number will grow generically so that customer demand is fully satisfied, "explains BILLA CFO Tomáš Staňo.
The sold warehouse hall in Senec is spread over land with a total area of ​​91,335 m2, while the hall itself has an area of ​​22,309 m2. Its strategic location is also a big bonus, as it is located right at the exit of the D1 motorway.
BILLA will continue to operate the warehouse in Senec until it builds a new central warehouse on a green field in Sered. "We assume that we will move to new premises at the turn of 2022/2023. We have completed the load-bearing structure of the main warehouse building on the new building in Sered and we continue to cover the facade walls and roof, "says BILLA CFO Tomáš Staňo.