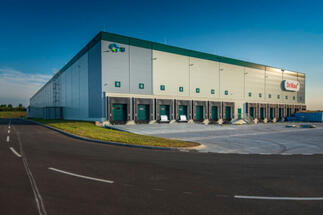 The expansion of customers within logistics parks is a sign of good cooperation. An example of a successful partnership is the current expansion of premises in Prologis Park Bratislava for the customer Dr.Max, the leader in the pharmacy market in the Slovak Republic.
Dr.Max will rent another 10,000 square meters together with offices on an area of 750 square meters. So far, the customer has rented 9,000 square meters in the park, so this is more than a double expansion of the premises. The new warehouse and office space will be custom-built primarily for the company's B2B needs, with completion expected in Q2 2024.
"For us, Prologis Park Bratislava is a location that helps us take care not only of the health of our customers, but also of the well-being of our employees," said Jaroslav Kypr, a member of the board of Dr.Max Holding. "The significant expansion at this park will allow us to make even better use of its capabilities – including an excellent location, great working conditions and spaces tailored to Dr.Max's needs."
The new building will be equipped with belt technology and will have a regulated temperature, thanks to which it will ensure optimal conditions for storing goods and at the same time it will be more sustainable.
Employees will have access to a variety of park amenities that Prologis takes care of as part of its PARKlifeTM initiative. Prologis Park Bratislava has a football field, where a popular tournament is held every year, as well as barbecue zones, sheds for bicycles, charging stations for electric cars and other useful solutions.
"Dr.Max's decision to more than double its premises in Prologis Park Bratislava is proof of the benefits that this park brings to its tenants," says Jakub Randa, manager of Prologis leasing and customer experience in Slovakia. "The park is ideally located for serving end customers in Slovakia and abroad, and at the same time it is a pleasant and friendly workplace. We are trying to develop it with regard to the health and well-being of employees, which are the values on which the Dr.Max brand also stands."
Dr.Max has been located in Prologis Park Bratislava since August 2021. The park is currently fully occupied, which is why Prologis is planning another speculative construction on an area of 12,000 square meters.