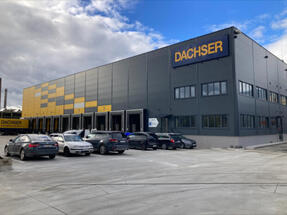 The primary function of the warehouse is its use as a transshipment terminal. It currently has a capacity of 2,000 pallet positions for storage and contract logistics, but the capacity of the expansion spaces allows for the creation of another 5,000 pallet positions in the future.
"The warehouse was designed with the efficiency and optimization of our logistics processes in mind. The increased number of gates and the possibility of handling a large amount of goods will enable us to significantly speed up the loading and unloading processes and bring better and faster service to our customers," says Barbora Feťková, Branch Manager of DACHSER in Martin.
With the opening of the new warehouse in Martin comes the expansion of direct daily routes within the DACHSER network, namely to the hub in Lozorn, the branch in Košice and the German Hof and Ohringen. The other two transshipment terminals in Radeburg and Landsberg are served 2 to 4 times a week, depending on the needs of the clients. The optimization of logistics processes and the dense network of 396 regular daily routes within the DACHSER network in Europe means for customers a lower need for transfers and the associated minimization of delays in the delivery process.
Moving to new premises brings double the number of loading gates compared to the original warehouse, modern administrative facilities with an area of 430 m2 and countless advantages not only for DACHSER, but also for clients. Increased storage capacity, significantly faster loading and unloading processes, as well as the potential for the development of contract logistics are just some of the advantages that the new warehouse in Martin brings.
The new DACHSER warehouse is strategically located on the northeastern side of the ZŤS area, with excellent accessibility to the city bypass and a distance of 5 minutes to the center of Martin.