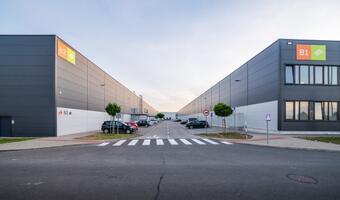 CTP's Expected Return on Cost ("R&C") on 1.8 million m2 of projects under construction increased to a peak of 10.6% from 10.1% at the end of 2022. The Group's fixed portfolio grew to 11.0 million m2 of HPP in ownership as of June 30, 2023, while gross asset value ("HHA") increased by 8.2% to €12.4 billion. EPRA ČHA per share increased by 7.4% to €14.84.
EPRA's specific adjusted profit increased by 25.4% to €158.1 million. CTP's adjusted Company-specific EPRA ZNA reached €0.36, which is on track to meet CTP's 2023 forecast of €0.72.
Remon Vos, CEO, comments: "In the second quarter, we saw a significant increase in leasing, with a total of 850,000 m2 signed in the first half of 2023. As tenant demand remains strong and supply of new industrial and logistics space declines, vacancy remains low, enabling us to continue to grow rents, with rents on new leases we signed in 1H2023 up 12% compared to 1st half of 2022.
The business-smart region of Central and Eastern Europe has seen strong growth in recent years and is expected to continue to outperform in the coming years. The industrial and logistics sector in Central and Eastern Europe is benefiting from structural demand factors such as the professionalization of supply chains, e-commerce and the efforts of tenants to increase the resilience of their supply chains through nearshoring and friend-shoring, while manufacturing in Europe is for Europe, as the Central and Eastern Europe region and Eastern Europe offers the best price location.
We continue to deliver on our promises, the expected EAC of our 1.8 million m2 development projects, which have a potential rental income of €133 million, has increased to 10.6% and we expect it to improve further during the year due to declining construction costs and higher rents. Our industry-best P&L and earnings potential also continue to support positive valuation as we mobilize our land bank, which we were able to acquire at attractive prices."
CONTINUING HIGH RENTAL DEMAND FROM A BROAD TENANT BASE
In the first half of 2023, CTP signed leases for 850,000 m2 with a contractual annual rental income of €56 million and an average monthly rent per m2 of €5.47 (first half of 2022: €4.88).
Almost two-thirds of these leases were with existing tenants, which is consistent with CTP's business model of growing with existing tenants in existing parks.
Major leasing transactions included a lease extension of 54,000 m2 with TD Synnex, a leading distributor and aggregator of IT ecosystem solutions, 52,000 m2 with Taiwan-based Inventec, a manufacturer of PCs, laptops, servers and other IoT devices , and 28,000 m2 with a German car company developing electrified drive technologies, all in the Czech Republic. 27,000 m2 with Titan X, a global supplier of cooling systems for commercial vehicle manufacturers, 25,000 m2 with a German renewable energy developer and service provider and 25,000 m2 with TRUMPF Huettinger, a global manufacturer of power supplies for plasma deposition, induction heating and laser excitation, all in Poland. In Romania, CTP signed a lease agreement for 18,500 m2 with a retail company that is a sportswear distributor.
The use of these factors allowed CTP to increase its average market share in the Czech Republic, Romania, Hungary and Slovakia from 27.8% at the end of 2022 to 28.0% at the first half of 2023 and remains the largest owner of industrial and logistics real estate in these markets. The group is also the market leader in Serbia and Bulgaria.
With over 1,000 clients, CTP has a broad and diversified international tenant base made up of blue-chip companies with strong credit ratings. CTP's tenants represent a wide range of industries, including manufacturing, high-tech/IT, automotive and e-commerce, retail, wholesale and third-party logistics. This rental base is highly diversified, with no single tenant representing more than 2.5% of annual rent, resulting in a stable income stream. CTP's top 50 tenants account for only 33.3% of its rent, and most of them are located in multiple CTP parks.
STRONG CASH FLOW GENERATING PORTFOLIO
The company's occupancy reached 93%, while this slight decrease compared to December 31, 2022 (94%) is mainly due to the delivery of CTPark Amsterdam City. The Group's client retention rate remains high at 92% (H1 2022: 91%) and demonstrates CTP's ability to leverage long-term client relationships.