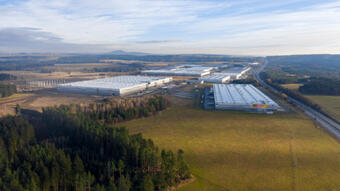 CTP N.V. is pleased to announce that in its first-ever ESG Risk rating, carried out by Sustainalytics Inc., the company achieved a low-risk score of 11.0. The ESG Risk score measures the degree to which the enterprise value of a company is exposed to material financial impacts from ESG (environmental, social and governance) factors. A score of 11.0 places CTP in the lower end of the "low-risk" category, which on the Sustainalytics scale ranges from 10–20. Additionally, CTP was ranked in the highest category—"strong"—for ESG Management, evidencing CTP's ability to adequately manage ESG-related matters in terms of policies and programmes as well as through quantitative performance measurement.
Jan-Evert Post, head of Funding & Investor Relations at CTP N.V. comments
"Last year Sustainalytics validated our Green Bond Framework, allowing CTP to issue Green Bonds on the basis of the company's long-standing, professional approach to developing and managing industrial and logistics properties. Since issuing the company's first Green Bond, CTP further invested in professionalising the social and governance aspects of ESG throughout the company, which positively impacted the ratings result from Sus-tainalytics. CTP's ESG Risk score ranks us 49th out of the 1,027 real estate companies scored worldwide by Sustainalytics and 198th out of the 13,733 corporates audited globally by Sustainalytics' for their ESG Risk profile. Our score places CTP among the top 5% worldwide within the real estate sector and among the top 1.5% of all companies worldwide."
During 2021, CTP will further seek external validation for its ESG profile. Currently, CTP is being evaluated to determine if its operations are already carbon-neutral, which is CTP's objective for 2021 throughout the geographies where it operates.

Zdroj:// CTP