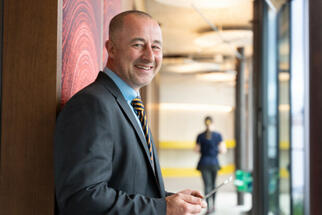 Peter Čerešník joins the CTP group from the international development company HB Reavis in Slovakia, where he worked at the group level in executive management and the board of directors and oversaw the development of business projects and product innovations in all European markets. His key roles at CTP will include responsibility for overall growth, achieving the company's build GLA and occupancy targets, developing CTP's energy business into a reliable source of revenue and further advancing procurement, business development and HR strategy.
Peter has more than twenty years of experience in the markets of Central and Eastern Europe, previously he led teams in individual countries at Microsoft, at IT distributor Alef Nula and at exe a.s. and SAS Institute.
"We have had a great year in 2022 and CTP has seen record growth and expansion across its European portfolio and we want to maintain this momentum as we consolidate our leadership position. Peter Čerešník has extensive knowledge in the field of business development strategies and innovations, as he has worked at the highest levels of management in all aspects of business growth in top multinational companies in Slovakia and other markets in Central and Eastern Europe. He already has a good understanding of CTP's business in our key CEE countries and joins at a crucial time as we accelerate our growth and will further deepen and strengthen the management team," says Remon Vos, CEO of CTP.
"CTP is a European market leader in the industrial and logistics sector with a strong heritage built by incredibly determined people and an impressive track record of delivering bold ambitions. We are following up on the next phase of our rapid growth strategy, as we aim to double the GLA of the CTP portfolio by the end of the decade and fulfill our vision of sustainability in all CTP parks," adds CTP Chief Operating Officer Peter Čerešník.