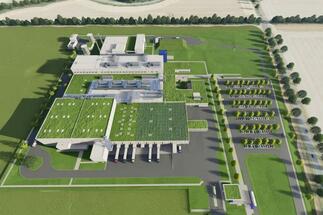 This is the first joint large project of two traditional companies from Hamburg. In the six-month tender, STILL specialists were convinced, among other things, by their rich experience in in-house logistics and well-founded expertise in the automation of logistics processes. Along with STILL, a sister company from the KION Group, Dematic, will also be involved. As part of this project, it will supply a pallet transport system that will interconnect all subsystems.
A productive partnership with a strong focus on solutions
"I think that in addition to the professional concept, we scored above all with our focus on solutions and constructive teamwork with the customer and his project partner," says Florian Kratzer, International Key Account Manager for Automated Solutions. This is also confirmed by Beiersdorf's logistics team: "Communication was open, respectful and result-oriented from the very beginning. The team constantly introduced us to new alternative approaches and submitted competent proposals for planning. These constructive discussions and excellent advice have made a decisive contribution to our decision to choose STILL as our partner. We are very much looking forward to our further work together. "
Capacity increase due to automated production supply
The new building near Leipzig is one of Beiersdorf's largest investment projects in Europe. In order for the production plant to meet the requirements of the future in the long term, production supply processes should be integrated according to the latest standards of efficient warehouse organization. Automation is crucial: Driverless transport systems ensure seamless material flow in perfect harmony with each other and with manually operated machines and intelligent warehouse elements - increasing productivity, optimizing processes, reducing costs and increasing capacity. "Projects of this size are not the order of the day in Germany. Specialists like us are given the opportunity to provide a full range of know-how, "explains Florian Kratzer. "We are all the more pleased to be a partner in this innovative project in such a structurally important branch as Leipzig."
The clever interplay of versatile components brings maximum efficiency
Specifically, it concerns the receipt of goods, quality control, in-house transport and storage of incoming material, in the further course then also its removal from storage and further transport to production. STILL designed a comprehensive integrated system for these tasks in close cooperation with Beiersdorf. Manual electric forklift trucks and STILL warehouse technology are used in goods receipt and dispatch. The transport technology of the Dematic Group nurse ensures the connection of the goods receipt to the warehouse with narrow aisles, in which six fully automated STILL MX-X iGo systems rack trucks work. In addition, the transport technology ensures the transport of material from the warehouse with narrow aisles to the production, where the goods are taken over by six STILL EXV iGo systems forklifts. They provide fully automated transport to Beiersdorf's production facilities.
"The big challenge of the project is its volume and the resulting diversity," explains Florian Kratzer. "We have heavy loads of various sizes, high racks and long routes that have to be covered quickly and safely." Therefore, about 140 meters of transport systems will be installed and about 25 manual and automated trucks will be used. It was necessary to take into account a number of different load units weighing up to 1,250 kilograms per piece and to allow a storage height of up to 12.7 meters in a fully automated warehouse with narrow aisles.