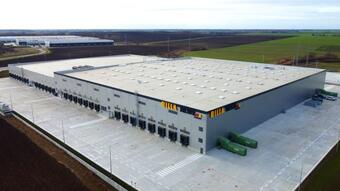 BILLA has opened 49 stores in the last seven years and continues to grow. The pace of expansion decided to build a new central warehouse, and eleven months after the excavation work, the new building was ready for operation. Compared to the original central warehouse in Senec, the logistics center in Seredi has a 74% larger storage area (28,500 m2). The storage capacity has increased by 47%, with the possibility of storing up to 23,000 tons of goods in different temperature ranges.
"We made the investment exclusively from our own resources and from the resources of our parent REWE concern. We have built a modern and ecological center that will bring valuable jobs to the region. In the thirty years since we have been doing business in Slovakia, we have already reinvested almost 700 million euros and we are continuing with our bold plans. The investments of the coming years will concern technologies and equipment that will help us reduce greenhouse gas emissions by 30% by 2030 and achieve carbon neutrality by 2040," said Arnd Riehl, CEO of BILLA, on the occasion of the ceremonial opening of the new logistics center.
Minister of Agriculture and Rural Development Samuel Vlčan also attended the opening ceremony of the new BILLA food logistics center in Seredi. "I am extremely pleased with the opportunity, such as the opening of this logistics center, and I welcome every single investment in the development of the Slovak food industry. As I learned, almost a thousand Slovak products were added to the shelves of this chain last year alone, and in total there are up to 13,600 different Slovak foods. Many of them also carry the well-known Mark of Quality label, and I believe that customers will increasingly like to buy them," said Minister Vlčan, who recalled that last year the Ministry of Agriculture announced a project call for food producers worth 240 million euros from European funds, thanks to which will food companies manage to invest significantly in modernization, which will ultimately have an impact on the price of products on store shelves. "Every seller that offers Slovak food helps the development of our traditional industry," Vlčan added.
The logistics center in Seredi is proud of the A0+ energy certificate, which means that thanks to modern technologies, 50% less energy is consumed per square meter of warehouse space in the new premises than in the original warehouse in Senca. "We can also boast of the largest installation of photovoltaic equipment with an output of 2.5 MWp on one roof in Slovakia and the Czech Republic, which will be completed in the first half of this year. The photovoltaic system produces 2400 MWh of electricity annually, which represents up to 80% of the expected annual consumption," says A. Riehl.
"Green" building of the 21st century
Workers of the logistics center will be able to send more than 120 trucks with goods every day, thanks to 58 loading ramps, temperature-adapted for the transport of individual types of food. There are charging stations for cars and trucks or trucks. It goes without saying that intelligent LED lighting and ventilation, ceiling cooling or the use of waste heat from cooling for floor heating, which is located under the entire part of the dry warehouse.
"All technological units are connected to the measurement and management system (Building management system), which makes this center one of the most energy-efficient and modern warehouses not only in the REWE group, but also in Central Europe," emphasizes A. Riehl. It is an exceptional custom-programmed system with the possibility of monitoring all technologies as well as controlling them remotely. Energy efficiency is evaluated by 65 secondary electricity meters and another 20 heat, cold, gas and water consumption meters. Other novelties are a special shelving system that reacts to seismicity and an air wall preventing air from escaping from the refrigerated parts of the warehouse. Thanks to two independent weather stations, the system can autonomously evaluate weather conditions and, in case of favorable conditions, open skylights through which the warehouse is ventilated naturally during colder summer nights, without the need for additional energy.
In the immediate vicinity of the center, a green area with an area of 4 hectares is being created with meadows, trees and water bodies, which also serve as retention tanks. They will not only retain water in the area, but will also naturally cool it during the summer heat. The area will also provide a refuge for local fauna and flora.
150 employees work in the logistics center, while BILLA plans to create up to 30 new jobs this year. "Our employees received a special reward for the relocation, we contribute to their transportation, we provided them with improved conditions for eating and, last but not least, the benefit is a modern working environment, including rest zones or healthy light pipes," adds A. Riehl.
In addition to the new logistics center in Sered, the regional warehouse in Petrovany will continue to operate, supplying stores in the east of Slovakia.