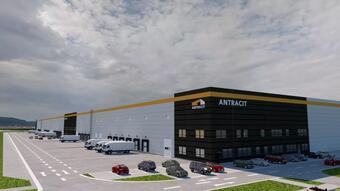 As part of the development project ANTRACIT Prešov, the construction of utility networks has already begun in the industrial area in the Záborská part. "Long-term lease can be used for warehouses, showrooms or stores. In this project, we offer two options for solving the built-up area," says Tomáš Kosa, managing director of ANTRACIT Property, adding: "The first option includes a hall with an area of ​​40,850 m2 and the possibility of dividing it into several units. In the second variant, there are three separate halls with an administrative part and a separate SBU."
The ANTRACIT Spot project is in the final phase of the construction process with an attractive location in the Žilina - Považský Chlmec district, including excellent accessibility to the main routes of the city bypass and the D3 highway. The premises can be used, for example, as warehouses, showrooms, shops or catering establishments.
In the stage of project preparation, the extension of the ANTRACIT Senec project by another logistics hall (area 6,500 m2), which will also provide smaller rental units. "We implement projects on our own land and provide clients with complex services from design to construction to building management and maintenance," adds Tomáš Kosa.
In the Czech Republic, the territorial proceedings of the ANTRACIT PorubkaPoint project in Ostrava are currently underway, which is intended for long-term lease in the concept of the so-called small business units (SBU). "Multipurpose spaces are ideal for light industry, such as corporate headquarters, shops or services. A great advantage of the location is the excellent accessibility and connection to the D1 highway," says Jan Hasík, CEO of ANTRACIT Property.
Other projects are underway in the Czech Republic. The administrative and housing project ANTRACIT Multi-functional building Vaclaw in the center of Ostrava is in the planning and construction phase. The ANTRACIT Plzeň rental project near the Pilsen train station is in the final phase of the architectural study.
The development company ANTRACIT Property focuses on logistics, manufacturing, retail, administrative and residential projects in the Czech Republic and Slovakia. It prepares projects mainly in the form of long-term lease (Lease), tailor-made rental projects (BTS - Built To Suit) or construction for ownership (BTO - Built To Own). The construction company HSF System SK participates in the implementation and design preparation of its buildings, the management is provided by the company SK Facility.