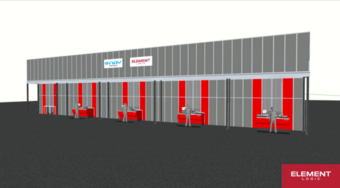 The entire system will be launched at the beginning of 2023. The technology for the automation of Nay's central warehouse in Slovakia will be provided by the Czech branch of Norwegian Element Logic, supplier of automated warehouse solutions AutoStore.
The warehouse with an area of ​​30,000 m² is located in Prologis Park in Senec near Bratislava and provides supplies for customers and Nay stores in Slovakia and Electro World stores in the Czech Republic. It is now undergoing modernization as part of a comprehensive optimization and automation project. Automated small parts warehouse solution complements robotic picking The whole project has already started and the installation of the system itself is planned for the end of 2022, so that there is enough time for the subsequent start-up.
"The AutoStore itself was the result of a long consideration and comparison of several automated warehouse systems," describes the beginnings of Michal Dugáček, project manager of Nay and Electro World.
In the initial phase, the company Nay decided to invest in the project of the automated solution of the lower unit of millions of euros. AutoStore will initially have 20,000 bins (storage bins) on an area of ​​600 m², which can store up to 30,000 SKUs (stock keeping units).
"However, the composition of our product range, the number of SKUs and piece stocks compared to the turnover rate, the system of preparation and order picking gradually worked in favor of the AutoStore solution," adds Michal Dugáček.
With the help of 26 robots and 4 universal carousel ports, work efficiency will increase up to three times. "Due to the expanding assortment, the requirements for warehouse positions are increasing, the need for service personnel, handling equipment is increasing, but especially the need to pick a significantly larger volume of goods in a significantly shorter time," explains Vladislav Krasický, director of the logistics company Nay and Electro World, explaining the reasons for using automation in the company .