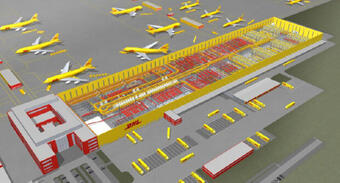 Visual technology with artificial intelligence will become a common method in logistics operations in the next five years, DHL said.
The company explained that computer vision allows computers and systems to extract important information from digital photos, videos and other visual input. Based on algorithmic processing of collected and retrieved visual data, these systems can perform actions or make recommendations.
"In the logistics industry, we are seeing the first use cases that demonstrate the benefits of computers, including various applications in health, safety and optimization of shipment dimensions. The further development of computer vision, which brings technical progress in the field of spatial perception, 3D reconstruction and interpretation of dark and blurry images, will soon open up many more opportunities," added Vice President Customer Solutions and Innovation Klaus Dohrmann.
According to the company, computer vision technology is promising, but it also comes with various challenges and concerns. These include, for example, obtaining public consent, especially for those who fear constant surveillance. Cybersecurity, data handling issues, compliance with the General Data Protection Regulation and other data protection and privacy legislation are also key in this context.
"Addressing these challenges requires a well-thought-out organization and the cooperation of all stakeholders," the company concluded.