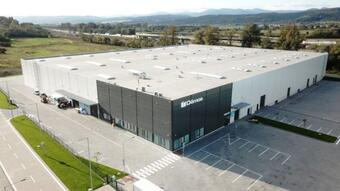 The new building in the IMMOPARK Žilina industrial area will be occupied by the company Démos trade, approximately one third of it. "The construction of hall Z2 with an area of ​​11,500 m2 proceeded according to schedule. The current "coronavirus situation" did not affect the construction in any way, for which I want to thank all members of the team who worked on the project," says Tomáš Kosa, CEO of HSF System SK, which implemented the project as a general contractor.
"We are pleased to have taken over the building according to the original plan. We will offer the remaining area of ​​the new hall for rent to other companies, for example in the field of logistics or light industry. The Žilina Industrial Park can offer an excellent location between the international airport and the motorway," says Peter Malík, CEO of Erste Immorent Slovensko.
In the modern industrial area IMMOPARK Žilina there is currently approximately 25,000 m2 of net leasable area, other logistics or production facilities can grow on an area of ​​up to 100,000 m2. Žilina Park focuses mainly on premises suitable for logistics, distribution, warehousing or light industry. The current tenants of the premises include Direct Parcel Distribution SK, LIBEX and Démos trade.