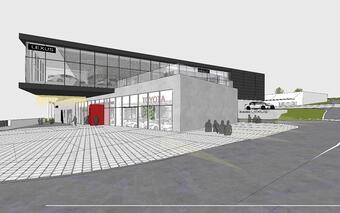 The atypical car show in Košice will consist of showrooms from the Lexus and Toyota car brands. The building will also include a paint shop. The total built-up area, including paved areas and car parks, will be 5,741 m2.
"The complexity of the project is caused by construction in a sloping terrain with a constant inflow of water. The construction is based on a monolithic foundation slab, so we still have to pump water, use special concrete and insert sealing strips there, "says Tomáš Kosa, managing director of HSF System SK, which is the general contractor of the construction.
The combination of materials used will also be unconventional. Concrete, sandwich panels, cetris boards or glass on glass facades and in the atrium can be used here. The Lexus showroom itself will be lined with LIBERTA facade cassettes in black.
"The car show itself will take the form of a cantilevered shop located on the third floor. Cars will be taken to the showroom from the upper parking lot from the paint shop premises and through a steel bridge, "describes Štefan Valas, director of Auto Valas, about the planned version of only the third Lexus showroom in Slovakia.
Auto Valas will offer premium and luxury Lexus and Toyota cars in its new showroom in Košice at Prešovská cesta. About 16 cars should be on display in both showrooms. The value of the investment is 3.29 mil. eur. The construction should be completed in November 2021. The opening of the showroom to the public is expected in February 2022.
Auto Valas has been operating in eastern Slovakia since 1996 as an authorized dealer of Fiat, Alfa Romeo and Kia. In addition, it also offers warranty and post-warranty service for Fiat Group vehicles.