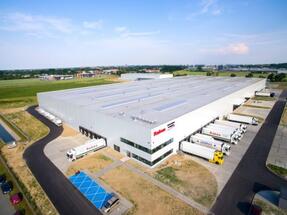 One of the important indicators for companies traded on Euronext Amsterdam which are included in the AScX index is their market capitalisation. CTP grew its market capitalisation to €6.2 billion within 3 months of its listing on the oldest stock-exchange in the world. The figure represents an increase of approximately 10% since the developer's IPO at the end of March 2021.
"We consider it a success to be included in the ASCX index after such a short period of time. It is a clear signal for us that CTP stock is an attractive one. We are happy to contribute to the image of the Amsterdam exchange as an appealing place for international investors and issuers alike. This is just the beginning for us, however. As a company focused on growth, we expect further positive momentum from our increased visibility," says Jan-Evert Post, head of Funding & Investor Relations at CTP NV.
CTP's IPO on 25 March generated €819 million in revenue. The total number of stocks offered is 6.7 million, which represents 17% of all of the company's stocks.