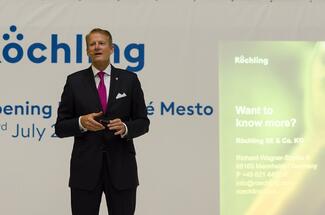 During the ceremony the Röchling Automotive division celebrated the opening of a new production plant in the Slovak village of Kočovce, near Nové Město nad Váhom.
Through the new plant, the company will meet the increased demand for technology while expanding its warehouse and production capacities.
Around 80 highly qualified employees will produce active grille shutters, chassis panels, mudguards and air filters for world-class car manufacturers Daimler, Jaguar Land Rover and PSA.
The opening of the plant in Kočovce is an important strategic step towards supporting our customers through regional production. The closer we are to our customers, the better we can support them, "says Prof. Dr. Hanns-Peter Knaebel, Chairman of the Board of Röchling Automotive.
"Thanks to the expansion of our capacities, we are able to divide activities between our Czech and Slovak plant and thus optimize processes."
The construction of the new plant began in October 2017 and the work was completed in July 2018. The total area of ​​10,000 square meters contains capacities for the production area, warehouse, technical facilities and administrative premises.
Land with an area of ​​50,000 square meters opens up opportunities for further construction in the future.
"The production of the new plant focuses primarily on work in progress (WIP parts) for other production operations of the Röchling Automotive division. This implies that the site has been strategically chosen - Daimler, Jaguar Land Rover and PSA also have plants in Hungary or Slovakia ", says Vladimír Lopušniak, plant manager in Nové Mesto nad Váhom.
During the official opening, in addition to Röchling Automotive's Board of Directors and Management, employees, Vice President of the Slovak Automotive Industry Association, customers and local press representatives were able to learn more about Röchling's strategy and technology through various presentations.
After the traditional opening cut of the tape, guests had the opportunity to participate in a tour of the new race.
Source: https://mytrencin.sme.sk/c/22174477/divizia-rochling-automotive-otvori-novy-zavod-na-slovensku.html