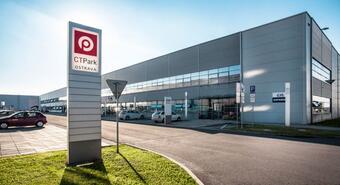 Savera Components will operate its first production facility in Central and Eastern Europe in the new premises. From there, the cabins, frames and other elevator components will travel to their customers. These are the most important elevator companies in the region. In addition to its production facilities, Savera Components will also have warehouse space and offices in the building.
Silvie Marešová, Senior Associate, managed the transaction for Savera Components on behalf of the Industrial Department of Colliers International: "Our main task was to arrange for the client a tender for a developer in the Czech Republic, Slovakia and Poland. Subsequently, we had the task of negotiating lease terms. The requirements of Savera Components were best met by CTP and its Class A premises in one of the most sought-after industrial parks in the Moravian-Silesian Region, CTPark Ostrava, "he describes.
Specific requirements included, among other things, increased load-bearing capacity of the floor, allowing installation of production machines or modifications necessary for the creation of the paint shop itself. As Savera Komponent CZ will also have its official headquarters in CTPark Ostrava, attention was also paid to the possibility of establishing representative office space in the building.
"Besides the flexibility of the new premises, the park location is also very attractive to us. As one of the largest cities in the Czech Republic, Ostrava has a sufficient supply of skilled labor. Moreover, the region has an important tradition in terms of metallurgy and metalworking, which we are also focusing on. We will also benefit from connecting the park to the most important international arteries, thanks to which we have quick access to clients in Slovakia. Another big advantage is the proximity of Katowice International Airport with a direct flight to Spain, as our parent company is located there, "said Ramiro Aranda, director of the new production plant in the Czech Republic.
The lease negotiated by Colliers for Savera Components begins in autumn 2019. This will immediately begin the trial operation of the production facility. After the factories in Zaragoza, Spain and Pune, India, it will become the third production center of the Savera Group products in the world.
Source: https://retrend.cz/novinky/prumysl-a-logistika/prvni-stredoevropsky-vyrobni-zavod-savera-components-bude-v-ostrave-prostory-zajistila-colliers-international/