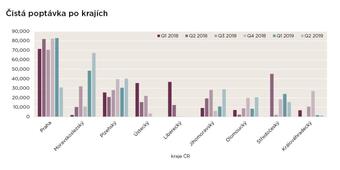 The vacancy rate in the Czech Republic increased by 25 basis points (bps) to 4.0%, equivalent to 326,400 square meters for immediate lease. This is mainly due to the completion of a number of speculative projects during the second quarter of 2019.
Total rental activity in the Czech Republic during the second quarter reached 344,300 square meters, 11% less than in the previous quarter. The year-on-year improvement was 14%. Net demand was 240,300 square meters, an increase of 16% compared to the first quarter and the same period last year.
The basic rent starts in locations outside motorways at EUR 3.65 / m2 per month, in Prague it is around EUR 4.90 / m2. Rents for smaller units (approximately 1,000 square meters or less) range across the country from € 5.10 to € 5.60 / m² per month.
Jaroslav Kaizr, head of the Savills rental department for the Czech Republic, adds: "The industrial market in the Czech Republic matured in the second quarter of 2019, when the total supply space exceeded 8 million square meters. The situation in terms of investment and demand is still promising, but we are beginning to see negative signals from the outside. "
Source: https://retrend.cz/novinky/prumysl-a-logistika/cesky-trh-prumyslovych-nemovitosti-prekrocil-hranici-8-milionu-metru-ctverecnich/