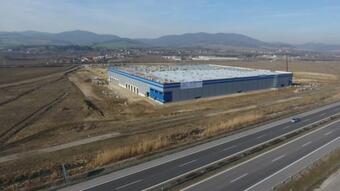 One of the largest logistics projects in Slovakia will soon be welcomed by tenants. The established Sihoť Park , which is being built by Sisban next to the D1 motorway at Chocholná Velčice (Trenčín District), will open the first of the two modern halls by several months. The total area of ​​36,000 square meters will offer variable space rentals from 2,000 m².
"We are currently communicating with several rental buyers in this hall. Our premises are suitable for logistics, light industry and business activities, "said Jakub Soták, project manager of SIGNUM Ltd spol. sro, which belongs to the SISBAN HOLDING group. She deals with investment projects around the world, Sihoť Park is the first in the Old Continent. So far, she has worked mainly in Asia, North America and Africa.
In parallel with building a smaller hall (see the project's current images), the preparatory work continues on the construction of a second, huge 126,000 m² hall, which will become the largest platform of this type in Slovakia after completion. "It will be a unique space, because you will not find such a large area that can be available to one landlord if you are interested," explains Jakub Soták. Its completion is currently estimated at 4Q 2019.
Overall, the Sihok Park occupies 380,000 square meters. Thanks to its excellent location at the intersection of the D1 motorway and the 1st class road connecting Central Slovakia with Považie and continuing to Moravia, it offers very good access to strategic production plants in Bratislava, Nitra, Trnava, Žilina, Brno and Ostrava. Its premises will be suitable for storage, logistics and light industry or assembly. I offer up to 10-meter high height, LED lighting, high-load flooring or facade and roof insulation. "The modern standard of the premises thus significantly affects the reduction of operating costs," Jakub Soták confirmed. Of course there are advanced solutions needed for loading and unloading goods, as well as high fire and safety standards.
Saudi Arabia's € 50 million investment will open its doors in the second half of 2019. Once fully operational, it will create jobs for some 600 people. In addition to future tenants and hundreds of employees, Chocholná Velčice will also benefit from the investment. It should bring 100,000 euros a year to its budget, and the council promises to expand its services or business activities within the municipality.
More about topics: SIGNUM , SIGNUM Ltd spol. sro , Sihoť Park , SISBAN HOLDING
Source: Webnoviny.sk - Sihoť Park will soon open the first hall. The logistics center will also offer the largest space in Slovakia © SITA All rights reserved.