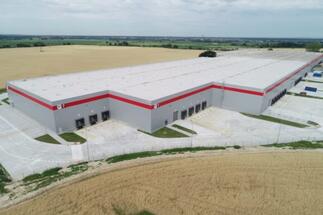 The DC7B hall with an area of 21,000 m2 is a continuation of the expansion plans within the DC7 logistics building. P3 started its construction in September of last year in order to meet the requirements for the expansion of the long-term client IHLE. She has been renting premises in the P3 Bratislava D2 park near Lozorn since 2011 and has completed three relocations together with P3. Within the total area of the new hall, IHLE operates on approximately a third of the total area, i.e. approximately 6,500 m².
Another long-term, and now also the largest tenant of P3 Logistic Parks and the P3 Bratislava D2 park, is the company MX Logistika SL, which is a distribution warehouse for the MÖBELIX chain of furniture stores. In addition to Austria, the product is also exported to the Czech Republic and Hungary, and as part of a major expansion, it will soon add another country to its distribution portfolio. In the new DC7B hall, the company operates on an area of almost 13,500 m². In the logistics park P3 Bratislava D2, however, it also rents space in other halls. The total leasable area of this tenant in the park is thus approximately 69,000 m².
Peter Jánoši, executive director of P3 Logistic Parks, says: "Flexibility is one of the most frequent requests of our clients. As part of our business, we mainly focus on long-term relationships, the quality of the services provided and the care of our clients, who are always our top priority. Many of our tenants have been with us for more than 10 years, as have the companies for which we built the DC7B hall.
The new hall DC7B in the logistics park P3 Bratislava D2 is an expansion of the seventh property that P3 Logistic Parks manages in this area with a total area of 236,890 m². It is a modern property of the highest quality level A with BREEAM Very Good certification, which meets strict environmental criteria. A 300-year-old oak is also unique in the park near Lozorn, to which P3 adapted the plans for the construction of the new hall and reduced the useful built-up area by approximately 3,000 m².
Peter Jánoši, added: "At P3, we will focus on a long-term sustainable approach also within the framework of our ESG strategy. We integrated the old oak into the park's office inserts, creating a natural relaxation zone. We are trying to build these in each of our parks, including planting greenery."