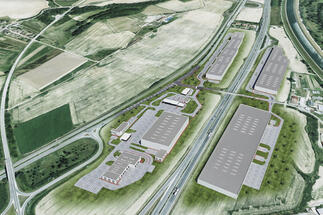 In the part of the area referred to as "Quadrant 1", there will be a modern Truck Center with complete equipment for LKW service, MOT for LKW, CS, Hostel and transhipment yard with a refrigerated logistics center and forwarding service.
The project is processed completely using 3D software with Building Information Modeling features, including land preparation and rough landscaping, which are also processed using 3D software for optimal economic solution of the entire area.
The advantage of the prepared logistics park is its strategic location, as the whole park is located in the transport junction of the D1 motorway and the planned expressway near the city of Trenčín in the direction of BB / ZV and the Czech Republic, which increases its potential and interest from investors and developers.
Source:// ASB Noviny