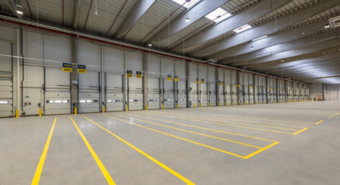 New tenant Bühler Motor is a worldwide manufacturer of small and medium-sized electric motors, gear motors and pumps for the automotive, aerospace and healthcare industries. He has leased almost 1,300 square meters of warehouse and office space in LiNK Hradec Králové. He joined Dachser and Gebrüder Weiss, a global provider of logistics services, who have been based here since the middle of last year.

"Negotiations for renting took place very quickly and efficiently, so the contract was signed in just two months," commented Kristýna Zavrtálková, Deputy CEO Linkcity Czech Republic. The real estate agency Content Reality, specialized in industrial real estate, participated in the preparation of the transaction.
Bühler Motor is currently expanding its production in the region. This requires additional logistics spaces to support expansion. The company is located in the area of ​​LiNK Hradec Králové, which is ideal both in terms of the size of the rented premises and the location in the industrial zone Pouchov near the D11 motorway and the railway line and airport.

The area has received the green BREEAM certification at the Very Good level, making it one of the best rated industrial parks in the Czech Republic. It was completed in autumn 2018 and is now fully leased.
"We are very pleased that we have completed the complete rental of the park in such a short time and that tenants are indeed reputable companies with long-term (10-year) contracts," comments David Svoboda, Country Manager at Cromwell Property Group.
Zdroj/foto: Crest Communications, a.s./VCES a.s.