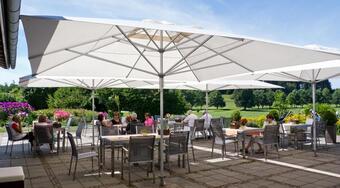 Overall, after this investment, the company will employ about 60 people in Slovakia. This stems from the investment project of the Slovak subsidiary Caravita Europe, which has already been received by the Slovak licensing authorities.
On the wave of the sun and terraces

The plan to expand the production of Germans, who sell their shades all over the world, is not only the increasingly hot summer, but other factors.
In its investment project, Caravita commends that its ongoing business boom is pulling up its sales. Mainly in Germany, Austria and Switzerland, which are among its most important markets.
But it also mentions the growing interest in outdoor meals. Restaurants and households buy more shades.
Caravity products are among the more expensive, but also better and more durable shades. They are also made-to-measure according to individual requirements.
The company has been on the rising wave for a long time. Even in 2009, the revenues of its local novodubnického production amounted to less than two million, while last year's revenues increased by more than four and a half million euros.
Last year, the profit of the Slovak daughter reached EUR 198,000, which represented a 13% year-on-year increase. It was the strongest in terms of profit in 2014, when Caravita Europe exceeded EUR 450,000.
Starting in 2021
The company bought the land for a new larger plant near Trenčín. Construction is due to start this autumn. Operation is expected to start before the end of 2021.
Caravita was established a quarter of a century ago. In Gaimersheim, South Germany, near Ingolstadt, it now has only a sales center, which ensures the sale of Slovak production.
Caravita is part of the wider German Warema Group.
Source: https://www.etrend.sk/firmy/zaujem-o-slnecniky-a-tienidla-stupa-nemci-pri-trencine-rozsiria-ich-vyrobu.html