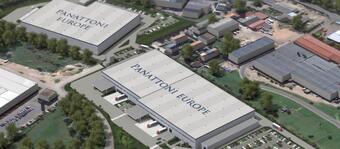 Panattoni Europe will build a logistics center in Saarland with a total investment of € 26.0 million. €. In the area of ​​60,000 square meters, the premises will be designed not only to measure but also to speculative spaces. Tailor-made premises with a surface area of ​​14,331 m2 will become the home of the HBPO manufacturer. There will also be 104 parking spaces.
Panattoni Europe is implementing the first phase of the construction of logistics premises in accordance with the complex requirements of the automotive supplier. HBPO services include assembly, storage and delivery of front-end modules to Daimler's factory, located just 15 km from Hambach.
In the second phase of construction, the Pannatoni will build a 10,395 m2 hall, 975 m2 of office space, and 32 parking spaces. Both logistics premises will comply with the guidelines for sustainable construction in line with the DGNB gold standard.
Panattoni Europe is developing a new brownfield logistics center where former factory complex was located. Work on the demolition of the three existing buildings and the removal of the extensive asphalt surface are planned to begin in mid-July 2019. Construction is scheduled to start in early September 2019. The first building for HBPO will be completed by mid-March 2020. The second should be completed one month later.
Souce: https://logistikadnes.sk/hbpo-bude-mat-novu-halu-od-panattoni-europe/