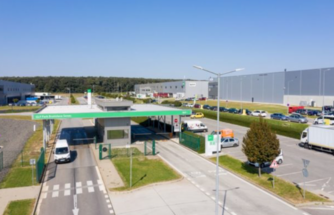 Alza has been operating a warehouse in GLP Park Bratislava Senec since 2015 when it leased a unit with an area of ​​12,000 m2. Since then, the logistics space in the park used by the company has grown organically to 47,000 m2. Designed for Alza, the unit has been enhanced with increased-thickness floor tiles, which will allow for the potential installation of a mezzanine, an outdoor shelter for lunch breaks, as well as windows and gates for a drive-through.
Hortim is a trading and logistics company with fresh and processed vegetables, fruits, and exotic fruits, providing services for foreign and domestic producers and retail chains. The 11,000 m2 unit was leased for 5 years. The company plans to use the warehouse as a refrigerated distribution center for fresh fruits and vegetables. Hortim is a new customer of GLP. The unit has been designed to allow the installation of refrigeration technology supplied by Hortim.
GLP Park Bratislava Senec Park, located 20 km from the center of Bratislava, includes a total of approximately 147,000 m2 of warehouse space. GLP Park Bratislava Senec is an ideal place for business activities, whether they require a tailor-made warehouse or production facilities. Thanks to the possibility of expanding the units and adapting the individual units to the specific needs of customers, the center is an ideal choice for companies that want to expand their offer in Central and Eastern Europe. Currently, another 9,000 m2 is available for rent in the park.
GLP is constantly expanding its operations in the Slovak market and is considering various other development projects. GLP Park Dunajská Streda currently offers warehouse space with an area of ​​86,000 m2 and GLP Park Trenčín offers 47,000 m2. Jan Palek, GLP country manager for the Czech Republic and Slovakia, said: "GLP Park Bratislava Senec is our largest park in Slovakia. We are proud to announce that with the completion of work on our latest units, its construction is complete. Leasing two units in GLP Park Bratislava Senec allows us to welcome Hortim and develop our relationship with Alza, which is our valuable customer. We look forward to working with both companies, which plan to use the excellent transport connections of GLP Park Bratislava Senec with all major markets in Central and Eastern Europe."
Source:// Systémy Logistiky