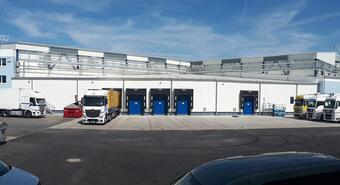 The investment for 250 million crowns is L-shaped freezer halls connected to the handling area with loading ramps. The building also includes a technology engine room and a three-storey office building, "says Pavel rúha, head of the Building Construction South of Swietelsky stavebni.
The new facility is designed for the storage of frozen food, especially vegetables, fruit, bread, meat and semi-finished products. The operation will be so automated that none of the employees will spend the whole day in the cold. However, these people will have to be all the more qualified because they will work with high technology.
"The food market is growing and we have long been interested in our services. Especially frozen baked goods have been moving the freezing market in recent years. But it is also ice cream or raw materials for further processing in production. explains Tomáš Urban, Managing Director of Eurofrost.
Eurofrost has been on the market since 2002 and operates two warehouses. The freezers in České Budějovice have a capacity of 2000 pallet places. Up to 23,000 pallets of frozen and 2,000 pallets of refrigerated goods can now be newly stored in Úžice. Eurofrost thus becomes the second largest provider of frozen food storage services in the Czech Republic.
Source: https://retrend.cz/novinky/prumysl-a-logistika/eurofrost-postavil-v-uzicich-novou-mrazirnu-dela-z-neho-dvojku-na-trhu/