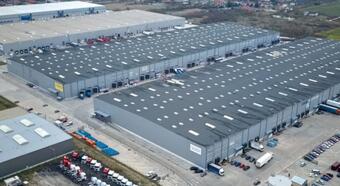 Dedoles is a Slovak clothing company focused on the production and sale of original clothing. It was founded by Jaroslav Chrapko in 2011, originally as an e-shop with T-shirts. He later decided to produce his own products with an original design. In 2020, Dedoles expanded its online sales to 20 European countries.
As part of another major expansion in Slovakia, Dedoles is moving to new warehouses with a total area of ​​15,500 m2 in the P3 Park Senec.
Dedoles plans to expand its business to other countries around the world, break into local markets and expand. It also wants to move into new business sectors and become a global brand. The rapid growth of the company also led to a natural expansion of corporate space in Slovakia.
"We have had an extremely good year and, given our ambition to continue to grow, we needed to choose larger spaces. Based on good references, we contacted 108 Agencies to help us with that. Jakub Velko patiently led us on this path of decision-making, who really understood all our requirements of a fast-growing business, its perspective development for the future and was able to react flexibly to changes that occurred during the process," says Jaroslav Chrapko about cooperation with plans for the future.
Source:// Systémy logistiky