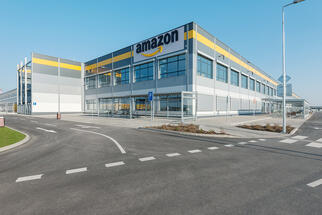 Instructor in the packaging department
"I have been working in the Amazon logistics center in Sered since the beginning of its establishment in Slovakia. I have learned a lot in the last three years, so today I am training new employees as an instructor. When I first heard about Amazon's job offer, I was particularly interested in financial rewards, but also in the opportunity to work for change - giving me more time for myself and my family. I also appreciate the benefits that Amazon offers, such as subsidized transport and meals, as well as contributions to the third pension pillar," says Helena Rábeková.
From the digital devices department
"Before I joined Amazon, I worked as a driver. When Amazon opened its logistics center in Slovakia three years ago, everything was built from scratch. During this process, I found that in addition to my job, I enjoyed building and setting up the department. They noticed this in the HR department and soon offered me the opportunity to become an employee representative for security.
I was immediately interested in the offer, and thanks to the Career Choice program, which allows employees to choose any training and Amazon pays 95 percent of tuition costs, I was able to attend the Safety at Work course. After completing the course, I became a safety representative for the entire operation in Sered. I have other ambitions and I know that I can achieve them in Amazon," adds Ladislav Košťál.
From the Amazon Warehouse department
"Before my career at Amazon, I worked as a fitness trainer. As a proud father of two beautiful children, my goal was to provide them with better housing and I was looking for security in a stable job. That's why I started working at Amazon. At first, I unloaded the trucks, but I knew I could do more, so I turned to my manager.
This is what I value most about Amazon's approach - our managers always listen to us and then we look for a solution together. I moved to the Warehouse department, where I worked with routers. Together with my colleagues, we have created new procedures and processes that allow the company to return up to 90% of returned products to the sale, "says Radovan Hlavna.
Security
Amazon provides some of the most advanced workplaces in the world, top financial valuations, and a number of processes and systems designed to ensure the well-being and safety of its employees. In Slovakia alone, in the last year since the beginning of the pandemic, Amazon has had more than 180,000 pairs of gloves, 400,000 drapes, 700,000 disinfectant wipes, and 8 million hand disinfectants available to its employees.
Technologies in the operation of Amazon
The logistics center offers various solutions that help employees in fulfilling their daily tasks. Innovative solutions ensure that everyday tasks are easier and more efficient for customers and employees. The Slovak logistics center uses technologies such as ergonomically shaped packaging tables, which help employees in their daily work, the latest software solution, including machine learning, which helps employees to correctly assess the condition of the item.
Similarly, robotization that reduces the amount of strenuous physical work, state-of-the-art tools for testing and diagnosing goods, and box size algorithms that calculate the correct order box size are used to help employees avoid having to look for the right box size. In the digital equipment department, they use the latest technology to process customer-returned goods.
Automated processes test the functionality and condition of the digital device and are used in the employee's decision-making process. During these processes, battery life, touch screen functionality, microphone, or control buttons are automatically checked. These tools simplify the work of employees and help them make the right decisions.
Operation building
The Amazon building in Sered is one of the most advanced reverse centers in the world. It holds a BREEAM certificate for its ecological solutions, such as improved insulation of walls and roofs, airtightness of the building, state-of-the-art equipment enabling recuperation, i. j. heat recovery by means of rotating heat exchangers. Millions of items can be processed and stored in an area of ​​60,000 square meters. The building uses 270 km of charging and control cables for the conveyor belt system.
Source:// Systémy logistiky